Campaign Overview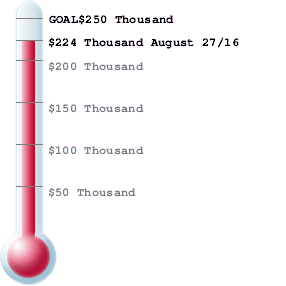 We at St. John Vianney are fortunate and blessed to have a wide variety of programs and services that enrich our celebrations and our lives.  Through the generosity of our parishioners, we are fortunate to have the resources to operate these programs and the clergy, staff and lay involvement necessary to make these programs and celebrations successful.  However, the parish has some important items that need to be addressed in order for us to continue to grow.
The parking lot is in a bad state of repair and needs to be restored and expanded.  Our hall is not accessible to people with disabilities, so we need to install an elevator to provide accessible access to the hall.
Together these two items will cost approximately $250,000. The estimated cost of the Parking Lot Restoration is $190,000.  The estimated cost of installing the elevator is $60,000.
It is not possible to undertake these projects from our regular sources of revenue; therefo
re, we are undertaking a special fund raising campaign to raise $250,000 to carry out these two projects.  The following provides more information on the features and benefits of these two projects and on how you can help.
Special thanks to the St. John Vianney Knights of Columbus, Council 7077,
for their $50,000 pledge to the Campaign!
Parking Lot Restoration – Features and Benefits
Scope of Work
The restoration of the parking lot will involve the removal of all of the old asphalt and replacing it with a new asphalt surface.  It will also involve the preparation and paving of the currently unpaved and the area behind the church which is not presently usable for parking.
Individual Parking Spaces
The new parking layout will feature "conventional" parking spaces .  This means better access to parking spaces and no more being "blocked In" as with the current "row" parking.
Expanded Areas
The expanded area will provide for additional parking on the "Bens" side and behind the church.  The shed will be moved to the narrow strip of land behind the church, on the Judy avenue side of the property.  The total estimated cost of restoring the parking lot is $190,000.
Elevator Installation
Anyone with a disability that affects their mobility and the elderly who find it difficult or impossible to negotiate long stairways, presently are not able to access the hall.  Installing an elevator, which will provide accessible access to the hall from the main level of the church, will provide opportunities for all to participate in events offered in the hall.
The elevator will be installed in the area now used as the "parlour".  The parlour will be relocated to an office "down the hall".
The estimated cost of installing an elevator to provide accessible access to the hall is $60,000.  $30,000 of this cost is for the provision and installation of the elevator and $30,000 is for the required construction of the elevator "hoistway" or enclosure and for related renovations to accommodate the elevator.
 Testimonials
Rita would love to be able to go down to the hall to participate in events that are held there.  However, her restricted mobility due to an amputation made necessary by diabetes makes that impossible without some considerable help.  With the installation of an elevator, Rita and many other parishioners who have mobility issues will feel more included in activities being held in the hall.
Other parishioners said "We are so glad that the restored parking lot will provide individual parking spaces, where no one is blocked in by other cars.  Often, when we arrive at church, it is difficult to find a parking spot.  Even thought there are likely spots available, they are often blocked off.  After Mass, it is nice to stay a few minutes to chat with our fellow parishioners or with our pastor, or to speak to someone who is available to give more information about a program or an event that was mentioned at Mass.  When we do this, we are always worried that we are blocking in someone. The restored parking lot will certainly make things much better."
How You Can Help
Our parishioners have demonstrated over and over that they are generous and have risen to the challenges posed when special needs have arisen.  We trust that parishioners will once again consider supporting the special needs that are presently before us.
Contributions:
Your contributions to this campaign can be made over a 3 year period or as a one-time contribution, or other time period that meets your needs.
Payment Options
Payments can be made by cheque (marked for the Parking Lot/Elevator Campaign) and included in the Sunday collection or enclosed in the envelopes marked for this campaign.
Pre. Authorized Remittances (P.A.R.) can be set up to automatically make your payments from your account, according to your payment schedule.
Payments can also be made by eTransfer.   These transfers can also be automated to facilitate your payment schedule.
Pledge Form:
Click "Pledge Your Support" and fill out the On Line Pledge Form.  This form can be used to indicate your contribution, your desired payment options, and method of payment.  It will be submitted to the Parish office.
For more Information, call the Parish office at 902-865-2112
Thank You for your support!